Title IX: Ed department rule "holds schools accountable"
Final regulations create legal obligations for school districts to promptly respond to reports of sexual harassment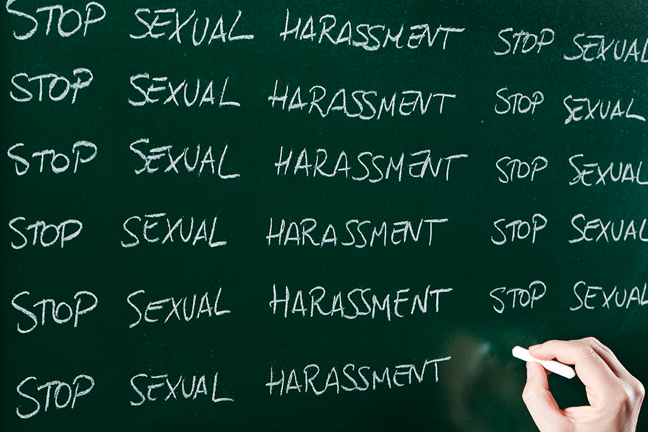 The U.S. Education Department issued final regulations May 6 that create legal obligations for school districts to promptly respond to reports of sexual harassment, including in K-12 schools.
The new rule has implications for students with disabilities, who can seek monetary damages under Title IX against school districts they allege failed to protect them from such harassment or assault. Some courts have held that Title IX cases do not require exhaustion of administrative remedies under the IDEA.
ED said the new rule, which becomes effective Aug. 14, emphasizes prompt response to allegations; clarity on how schools must respond; supports for those alleging harassment or assault; due process rights for those accused; and school officials' responsibility to be impartial during a transparent and predictable grievance process.
U.S. Education Secretary Betsy DeVos, in a call with reporters, said the department "holds schools accountable when they have fallen short of their responsibility to protect students."
The more than 2,000-page rule, for purposes of enforcement under Title IX, defines sexual harassment, including sexual assault, as unlawful sex discrimination. Sexual harassment is "unwelcome conduct determined by a reasonable person to be so severe, pervasive, and objectively offensive that it effectively denies a person equal access to the school's education program or activity," according to the rule.
Instances of sexual harassment include sexual assault, dating violence, domestic violence, and stalking, as unlawful discrimination on the basis of sex.
The regulation applies to both higher education institutions and K-12 school systems, although different components are tailored to recognize the unique environments of the campuses and the age difference in the students at the center of the alleged instances.
For example, one provision that elementary and secondary school administrators should take note of is that ED expects schools to respond promptly when any school employee has notice of sexual harassment. The interpretation of past guidance was that "actual knowledge" of allegations had to reach the administrative level or a designated employee before a response was initiated.
Another important provision relevant to K-12 schools includes the right of parents to file a formal complaint on behalf of their child. In those cases, the child remains the complainant.
Additionally, the new rule specifies that a school's "education program or activity" includes situations over which the school exercised substantial control, which may include off-campus field trips, academic conferences, and preemployment activities.
"We are making sure our youngest students, who often get overlooked in discussions of this topic, are no more forgotten," DeVos said.
The new rule says that when investigating and adjudicating formal complaints of sexual harassment, schools can use either the preponderance of the evidence standard or the clear and convincing evidence standard.
In regard to deliberate indifference, the rule specifies that a school's response to an allegation must be prompt; consist of offering supportive measures to the person making an allegation; consider the complainant's wishes regarding supportive measures; inform the complainant of the availability of supportive measures with or without the filing of a formal complaint; and explain to the complainant the process for filing a formal complaint.
"This mandatory, proactive, and interactive process helps ensure that complainants receive the response that will most effectively address [their] needs in each circumstance," the regulation states.
According to ED, 9,700 incidents of sexual assault, rape, or attempted rape occurred in public elementary and secondary schools in SY 2015-16.
Earlier this year, ED announced it was enhancing enforcement of student civil rights protections under Title IX. That initiative includes compliance reviews; public awareness and support; data quality reviews; and detailed data collection.
The initiative also emphasized enforcement of the "Pass the Trash" provision from the Every Student Succeeds Act, which prohibits states and districts from hiring new employees who have engaged in sexual misconduct with a student or minor.
Additionally, ED's Office for Civil Rights announced the creation of the Outreach, Prevention, Education, and Non-discrimination Center earlier this year. The OPEN Center works with schools, educators, families, and students throughout the country to address compliance with federal civil rights laws before a violation complaint is made.
'Civil rights cannot wait'
DeVos had been under pressure to delay the final Title IX regulation due to the COVID-19 outbreak. Some school administration groups and several Democratic attorney generals and U.S. senators said the new regulation would burden school systems by diverting their attention to new policies and training at the same time they are responding to the public health crisis.
Chairman of the House Education and Labor Committee Bobby Scott, D-Va., criticized the timing and the substance of the rule. "The Department's final Title IX rule creates new barriers to justice for survivors of sexual misconduct," Scott said in a statement with House Judiciary Committee Chairman Jerrold Nadler, D-NY. "It imposes a higher burden of proof for survivors — which is more challenging than the standard used in other civil rights laws and will be particularly difficult to meet given the nature of many sexual misconduct cases."
DeVos defended the timing of the release of the rule saying that the department took more than two years to develop the rule, reviewed more than 124,000 public comments, and met with a variety of individuals and organizations ahead of issuing the final rule.
"Civil rights cannot wait," DeVos said.
Kara Arundel covers special education for Special Ed Connection, a DA sister publication.
Learn the top nine things every individual involved in the special education process should know about Title IX and how they can impact compliance during LRP's National Institute® on Legal Issues of Educating Individuals with Disabilities, currently live online! Attorney Bobby Truhe presents the session Going 9 for IX: 9 Things Anyone Involved in Special Education Must Know about Title IX.