When teachers leave education, testing is not the cause
Some early-career teachers were more likely to leave the profession when testing was reduced.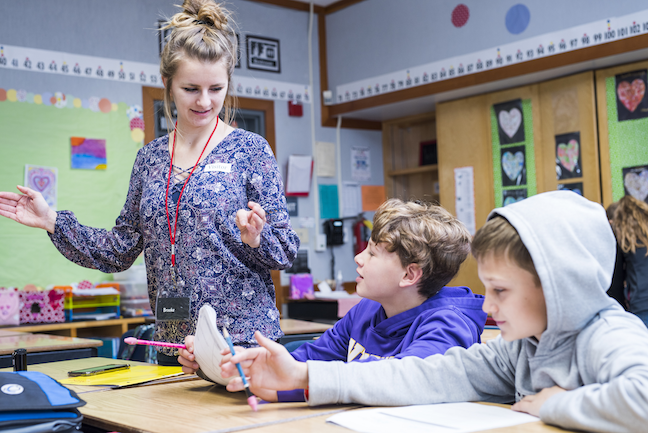 High-stakes testing, contrary to what some might think, does not cause teachers to leave education or switch schools or districts, according to a new study by researchers at the University of Arkansas and Georgia State University.
In fact, the researchers found early-career teachers were more likely to leave the profession when testing was reduced.
For teachers with 0-4 years of experience, the likelihood of leaving dropped from 14% to 13% in grades 1 and 2, and from 14% to 11% in grades 6 and 7.
Previous studies that have investigated links between testing and teacher turnover analyzed situations in which testing was instituted along with other changes to school accountability, the authors wrote.
---
More from DA: How to set up new teachers for success
---
However, teacher morale is causing concerns through education. Teachers report feeling less optimistic about their profession than they did a year ago, according to Houghton Mifflin Harcourt's annual "Educator Confidence Report."
In a survey of more than 1,300 educators, only about a third of teachers expressed optimism, compared with 50% in 2018, according to the report. Teacher confidence declined in many areas, such as building students' critical thinking skills, using data to inform instruction and applying instruction to the real world.
The teachers surveyed also said students need more social and emotional support.
Professional development offered through one-on-one mentoring programs is one way to boost the morale of new teachers, District Administration reported last year.
The one-on-one PD model can also provide a reboot for veterans, said Michelle Lemons, coordinator for The Mentor Program, a partnership between Albuquerque Public Schools in New Mexico and the Albuquerque Teachers Federation.
"I think a lot of teachers reach a point where they want to give back—they want to make a deposit on their legacy," Lemons told DA. "It also fills their cup back up. They really need to carve out some time to replenish their own learning and their own skills."
---
More from DA: SAT, ACT grades increase when K-12 districts pay for exams
---
In North Carolina, teacher turnover has dropped for the past three years, according to The News & Observer. 
Republican legislative leaders credited pay raises that have elevated North Carolina's teacher salaries to 29th in the nation, The News & Observer reported.
Rethinking testing with teachers in mind
As for testing, some schools are overhauling their procedures, DA reported last year.
After performing an assessment audit, leaders at Fresno USD in California eliminated 25 tests because they were "above and beyond" the district's requirements.
Fairfield-Suisun USD, also in California, a committee of 45 teachers, principals and administrators began an audit in 2015. The district eliminated three benchmark exams, separate ELA and math placement tests, and a reading evaluation.
---
More from DA: Building a culture of lifelong learning
---