Rolling improvements: How school buses go high tech
District leaders implement the latest technology on school buses to improve student safety—and success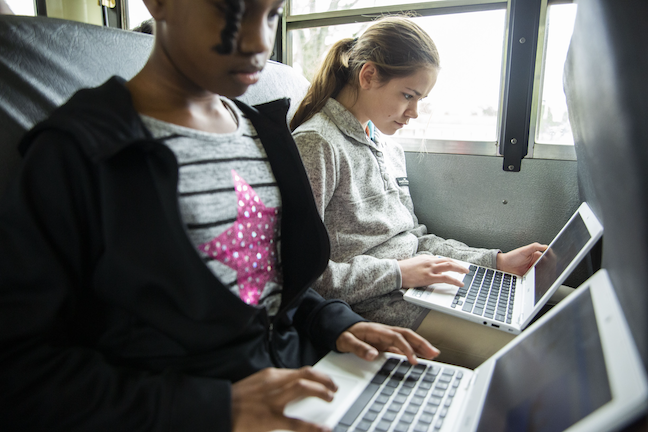 Although a tremendous amount of attention is dedicated to protecting students while on school grounds, ensuring their safety while being transported to and from school is just as essential, with internal school bus camera systems, stop-arm cameras and other technology
In New York, Springville-Griffith Institute Central School exclusively manages a fleet of 50 buses that were all manufactured after 2015. Many feature the latest technology, from routing software and interior cameras to collision mitigation and electronic stability control systems.
Thanks to a special agreement, district leaders never have to worry about equipment becoming outdated. "Every year, there are advances in technology that can help us transport students safely, so we worked a five-year rotation agreement into our budget to receive new vehicles from our bus manufacturer annually," says transportation supervisor Ann Rugg.
Unfortunately, this type of arrangement is rare in K-12, as most districts struggle to afford any type of bus upgrade.
---
More from DA: Why zero-emission school buses are gaining traction
---
"Schools will never have enough revenue to address all facets of student transportation, so districts need to use their resources judiciously," says Curt Macysyn, executive director of the National
School Transportation Association, an advocate for private operators of the school bus industry.
Schools should invest what funds are available in technologies that keep students out of harm's way, especially when getting off the bus because the biggest issue is impatient and distracted drivers, Macysyn says.
Consider: On a single day during the 2018-19 school year, 130,963 school bus drivers in 39 states reported that 95,319 vehicles passed their buses illegally, according to the ninth annual survey by the National Association of State Directors of Pupil Transportation Services.
Here are some of the latest technologies that schools can install on their bus fleets to improve safety and better protect all students.
Tracking and surveilling
Last summer, Karen Miller, a transportation assistant from Boyertown Area School District in southeastern Pennsylvania, helped pilot a bus-tracking app by choosing five students, including her son, to test the technology for two weeks. These students rode different buses and represented kindergarten, elementary, middle, high school and special needs populations.
"I got a notification when the bus pulled into a five-minute bus stop radius that I had set myself so I could tell my son that he had five minutes to get out there," says Miller.
By October, the GPS technology was installed in the district's more than 100 vehicles.
"If a bus doesn't start in the morning, our contractor inputs that into the system, which automatically sends a notification to parents," says Miller.
By having the app and knowing when the bus will arrive, students don't spend extended time waiting at the stop, where there is always risk of an accident and other safety concerns.
The app complements an earlier initiative that involved installing up to four high-definition cameras on every bus. "We now have a better visual of student and driver behaviors than our previous cameras, which had dead spots," says Superintendent Dana Bedden.
The new cameras also provide higher quality video and editing capabilities. "Before, we sometimes couldn't share videos with parents because students who were not involved in an incident were recorded," Bedden says. "Now we can block and blur out the faces of those who are not involved."
The cameras and related technology also can document if a bus driver is speeding.
Slowing down automatically
Late last school year, Clark-Pleasant School District in Indiana became the first school system to pilot an electronic stability and collision resistance system, which is standard on certain manufacturers' vehicles. The district has since traded in the 17 vehicles in its fleet for buses equipped with that technology plus cameras that monitor when a bus crosses the yellow dividing line.
The electronic stability technology anticipates and adapts to loss-of-control and rollover events. "We had a few incidents earlier this year when we had a lot of rain and the roads were slick, so this was helpful," says Robert Downin, director of transportation.
---
More from DA: Student bus badging improves K-12 transportation security and routing
---
The collision technology alerts the driver if an object is in front of the vehicle, and can calculate its distance, which is critical on foggy and rainy days. "If we're coming up on a car too fast, it will tell us, and if we don't correct it, the bus will automatically slow down," says Downin.
The radar also determines the speed of approaching vehicles to avoid accidents at bus stops. "If an oncoming car is showing no signs of slowing down, a light goes off inside our bus and a megaphone under the hood announces to students to not cross the road," says Downin.
This summer, the district also installed stop-arm cameras on two buses; the cameras document license plates of cars that don't stop as required.
Ensuring students have disembarked
After a previous safety check procedure failed, leaders in Orange USD in California recently installed an alarm program on all 116 buses that prevents drivers from leaving students unattended in parked vehicles.
"Once the bus driver turns off their bus and pulls the key from the ignition, they have to walk to the back of the bus and push a button or the headlights and horns go off," says Pam McDonald, director of transportation.
In 2015, a student from another district died after being left unattended on a bus, so legislators in California passed a law requiring schools to adopt new technology by 2018. Orange USD only needed to install an updated version of its alarm system.
"Some school districts had a hard time because the systems got back ordered and they needed help installing, so there was a lot of panic," McDonald says. "We took care of it ourselves and were already familiar with the technology."
Around the same time, the district purchased radio-frequency identification (RFID) passes that students use when getting on and off buses. "It notifies parents via text message where and when their child scans their badge," says McDonald.
Illuminating drivers and students
Due to an increase of cars passing stopped buses when loading and unloading children, Medina City Schools in Ohio purchased auxiliary interior and pedestrian lighting systems over the course of two years to better illuminate the driver and students.
Installing a system on each of 59 buses only took the district's head mechanic and three technicians one month. The four-person team also designed the mounting systems and wiring harnesses that connect the new technologies to the buses' eight-way lighting system.
"Instead of a driver pulling up to a stop and then turning on inside and outside lights for crossing, we automated the process so they all come on at the same time," says transportation manager Rob Travis.
The pedestrian lighting system that the mechanics mounted behind each front bumper is angled across the open lane of traffic, so it shines on the part of the road where students walk across, says Travis.
Rolling study hall
Talladega County Schools in Alabama recently piloted free Wi-Fi on six buses for two years to create opportunities for students to complete homework to and from school.
For the installation, the district's transportation department chose the six buses that travel the longest routes. "We had to ask if it made sense to add internet to buses that only travel 15 minutes, for example," says Deputy Superintendent Vicky Ozment. "By the time students settled in and got their devices out, they'd be home."
The Wi-Fi was installed in 2018, and the program was tested that summer. "We had to make sure that students could gain access to the programs, and that holding laptops while on the go wouldn't be an issue," says Ozment.
---
More from DA: How ride-hailing is transforming school transportation
---
After a successful first year, the district plans on adding Wi-Fi to 10 additional buses at its expense.
As part of the initiative, district leaders chose fully paid trained educators who would travel with students in the morning and afternoon on these six buses, which ultimately increased student safety.
"Our drivers said they were able to focus 100% on the road because they had another educator on the bus," says Ozment.
Steven Blackburn is associate editor.
---
Interested in edtech? Keep up with DA's Future of Education Technology Conference®.