6 ways to keep students in least restrictive environments while online
Some suggestions for ensuring that a student is educated in the least restrictive environment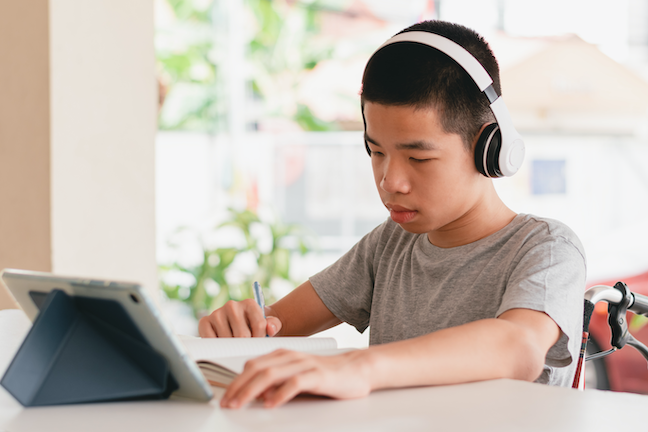 A student's least restrictive environment shouldn't automatically change because their district has switched to remote or hybrid learning during the pandemic, said Heather Pierson, a school attorney at Udall Shumway in Mesa, Ariz.
"Students should still have the same amount of access to their nondisabled peers as would in school," Pierson said. Make sure they have the same access to their nondisabled peers while learning remotely as they would have had during in-person learning.
For example, if a student with a disability was receiving general education instruction for 50% of the day prior to the pandemic, then they should still be getting general education instruction for 50% of the day, whatever that day looks like for your individual school or district, Pierson said.
"You still have to maintain that level of participation," she said. "If not, you do have an LRE problem. It's just really sticky. You have to get creative. But don't change the LRE, unless the LRE really needs to be changed."
---
More from DA: Virtual schools connect students with disabilities
---
Here are some suggestions for how you might ensure that a student is educated in the LRE during periods of remote and hybrid learning.
Combine students with disabilities and other groups on campus. One way you might ensure that students with disabilities are learning in their LRE if they return to campus early is to educate them with other students who have also returned early, Pierson said.
"If you're bringing students with disabilities on campus, you're probably also bringing other impacted populations," she said. This may include McKinney-Vento and English learner students. Combine the groups of students together.
Provide services on campus, classes at home. Another suggestion is to have students with disabilities come on campus for blocks of time just to receive their services, then go home and participate in virtual instruction with their nondisabled peers, Pierson said.
Have students attend virtual class on campus. You can also have students with disabilities come on campus to receive the supports they need but stay all day and attend classes virtually with their typically developing peers while there, Pierson said.
"That way they're still learning with their peers in compliance with the LRE," she said. "If they're on campus, make sure they're provided the technology and accessing the general education instruction with nondisabled peers the same way they would if they were not."
Attend virtual class while others attend on campus. Make the option for virtual instruction available for everybody, Pierson said. That way, when all students return to campus, but parents chose to keep their children with disabilities at home for health reasons, those students can stream into the classroom via Skype or a similar platform so they're part of the class.
"They get the instruction the teacher is providing and get to participate — albeit via their computer," she said.
Don't automatically change LRE. Be really careful not to automatically change the LRE of students with disabilities to home instruction just because they are at home during this pandemic, Pierson said.
---
More from DA: Use progress data, parent input to inform testing accommodations
---
"That's not their LRE," she said. "It's not their disability sending them home."
Base decisions on student's needs. Don't make a decision about a student's LRE and how to educate them there based on school or district convenience, Pierson said.
"You shouldn't be making decisions based on the convenience of the district, staff, or school," she said. "You should be making them based on [the students'] individual needs."
Florence Simmons covers Section 504, paraprofessionals, and transportation for LRP Publications.