How soft skills drive Virginia's high school esports league
Teams forming in new statewide league are competing, collaborating and finding camaraderie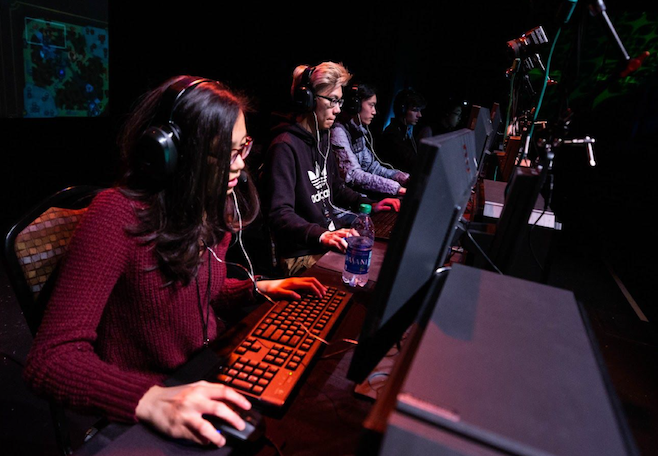 Students who play in a high school esports league are no different from their classmates on the football, baseball or basketball teams, says Kenneth Edwards, the athletic director at Jamestown High School in Williamsburg, Virginia.
"They're excited to come to practice, they're excited to be around their teammates, and they're excited to represent Jamestown High School in a brand new sport," says Edwards, whose school is part of Williamsburg-James City County Public Schools. "There's that same sense of camaraderie and school spirit."
Jamestown is among the dozens of schools that will compete this school year in the trial run of a statewide high school esports league. Schools will compete in three games: League of Legends, Rocket League and Smite.
---
More from DA: Inside an elite high school esports program
---
Edwards recently split the cost of six new gaming computers with the district so Jamestown will be ready in January to join the esports league overseen by the Virginia High School League, which governs K-12 sports in the state.
High school esports is an important addition because it appeals to students who don't feel connected to other athletic activities, Edwards says.
"Esports is something that's here to stay," he says. "You're going to see this grow and become really large with a lot of competitors. I see this becoming a major sport."
Next-level potential of high school esports league
Esports fits in with activities like debate, forensics and scholastic bowls on the more academic side of the competitive spectrum, says Darrell Wilson, assistant director of academic activities at Virginia High School League.
Because the 2019-20 high school esports league is a pilot, there won't be a state championship.
State organizers, along with an advisory committee comprising educators, want to see how many high schools and students participate in esports—and understand what barriers and challenges the district might face—before officially sanctioning competition, Wilson says.
About 40 teams will compete this fall, and another 70 are interested in the second session scheduled to start after the new year.
---
DATV video: Watch tech-ready esports teams in action
---
"Now that colleges are embracing esports, and giving scholarships and forming academic programs, it's important for high school students to look at the potential for the next level," Wilson says.
Some schools link esports to classroom instruction in math, engineering and computer science, among other subjects.
"We're taking something that students participate in at home, late at night, in an unsupervised environment, and putting it into an after-school, supervised support mode," he says.
'A synergistic approach'
A full esports arena can cost around $50,000. But schools don't have to break the bank to start a high school esports league team.
Jay Cooke, the technology supervisor at Stafford County Public Schools, about 40 miles south of Washington, D.C., bought $350 graphic cards to update a handful of desktop computers at each of the district's five high schools. Four of the schools began competing this fall.
The schools' networks haven't been strained because the esports teams practice and compete after school, when digital traffic is far lighter than it is during the school day, Cooke adds.
---
More from DA: NJ teacher has middle school esports program thriving
---
One of the most positive elements of high school esports is that it is student led, Cooke says.
"There are coaches and they organize the team, but once the students step onto the virtual field and the game starts, the students are leading and collaborating against the other team," he says. "The coaches don't call plays."
English teacher James Mulreany leads esports at Colonial Forge High School in Stafford County.
His club, which is about 4 years old, now has about 30 regular members, out of a student body of about 2,000. Mulreany updated some monitors in the school's computer lab to give his team a place to operate.
One of the games his team plays, League of Legends, presents students with complex problems to solve as they try to topple their opponents' main base.
For example, they have to work together to develop game characters with traits that will contribute to an effective team. As one student controls the team's attacks, other team members have to provide support with certain supplies.
"The game encourages that synergistic approach," Mulreany says. "The students need to talk to each other and they need to get to know each other a little bit, and oftentimes that spills over into their personal lives."
---
Interested in esports? Keep up with LRP's Academic Esports Conference and Expo.
---
Interested in edtech? Keep up with DA's Future of Education Technology Conference®.