How to combat the 'COVID slide' when schools reopen
Districts serving the highest numbers of the most vulnerable students are likely to face the most severe economic challenges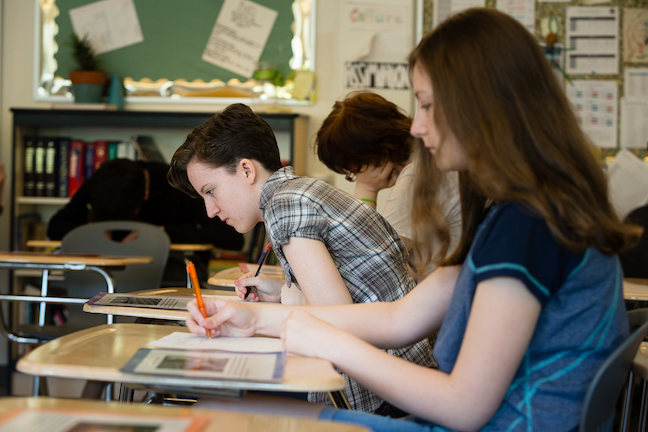 Questions of equity will be even more important to answer when schools reopen as the "COVID-19 slide" will have impacted some students—and districts—more than others, a group of education experts said Wednesday.
Administrators will have to find a way to assess the slide, use the data to develop interventions and may then consider blurring the lines of grade levels, the experts said in a webinar hosted by NWEA, the nonprofit testing agency.
"We're going to see significant learning loss," said John King, Jr., CEO of The Education Trust and former U.S. Secretary of Education, adding that districts serving the highest numbers of the most vulnerable students are likely to suffer the most severe economic challenges.
District leaders can use in-person and summer school to begin to help students catch up. Also during the summer, teachers will time to plan differentiated instruction to address learning loss once the school year begins.
---
More from DA: Education groups seek $5.25B to connect students
---
As classes resume, educators will have to conduct diagnostic testing to gauge learning loss and begin developing interventions.
Then, administrators should consider lengthening the school day while adding afterschool support and intensive tutoring programs that would continue through summer 2021, King said.
Of course, this vision will need significant funding. The CARES Act allocated $13.5 billion for education, and advocates now say at least $250 billion is needed to reverse learning loss in the face of potentially steep state budget cuts, King says.
"State leaders are very worried about their ability to do what they know is in kids' interest if resources aren't forthcoming from the federal level," King says.
Social-emotional learning loss
Students' social-emotional needs will be as pressing as their academic needs when schools reopen, says Karen Niemi, president of CASEL (the Collaborative for Academic, Social, and Emotional Learning).
---
More from DA: Should we start next school year early, and make it longer?
---
"It's really important that we look at all policies and practices and consider whether they add additional burden or stress to an already stressed system," Niemi said. "Sometimes the policies implemented are intended to alleviate one problem but cause another."
When classes resume, teachers will need time to talk openly and honestly with students to determine how they are feeling and how the coronavirus closures affected them emotionally.
"We have to think innovatively about how to structure the school day so we can prioritize relationship-building," Niemi says. "We also have to think about how to structure the learning environment—personalized and competency-based instruction tends to lead to more supportive learning environments, which will be even more critical at this moment when we know kids are feeling stressed."
Administrators should also consider adding professional development for teachers in trauma-informed teaching practices. Educators should also adjust their responses to behavioral issues with less punitive measures.
"Now is the time to make kids feel cared for, attended to and loved," Niemi said. "It's an opportunity for us as policymakers and educators to rethink what it means to be educated by focusing on all aspects of student development and human development."
How will coronavirus change education?
The experts also said they hope the coronavirus experience will leave K-12 education more student-centered than it has been traditionally while keeping college and career preparation as a high priority.
---
More from DA: How teachers will make up for lost learning time
---
"We have this way of doing school that puts one teacher and 25 students in an 800-square-foot room with a textbook and we've tried to optimize that particular delivery model," said Joel Rose, the CEO of New Classrooms. "We hope this moment catalyzes a flip of that paradigm where the onus is on schools to meet the unique needs of each student."
The COVID outbreak may also motivate the narrow the close the digital divide that has been brought into sharper relief since schools move online, King added.
"I hope we emerge with a New Deal moment where folks are willing to organize school differently so we don't see these horrible inequities," King said.
Share your stories of teacher creativity
District Administration is sharing stories of creative teaching during this challenging time. Please use this form to nominate an innovative teaching effort for us to share with our readers.